In the space of a day I've gone from being super skeptical of quick response (QR) codes to super enthusiastic – which is a weird predicament for me anyhow. I'm usually pretty quick on embracing new technologies but I just didn't get what the fuss was about with these things. Now that I've had a bit of a play about with them I'm kinda getting them and beginning to see their usefulness in the library setting/educational sector. It obviously helps having a good piece of reader software but I'll get to that bit later.
So what are QR codes?
Hailing from Japan, these two-dimensional barcodes are a device used to store information that can be downloaded at high speed (hence the name 'quick response) via mobile phones. Originally they were being used as a tracking device but these days you can pretty much use them for just about anything. They can store text, URLs, telephone numbers,  and even entire poems (The Walrus and the Carpenter).  Put simply they're like the next generation barcode. Traditional barcodes (those that you see on your baked beans) are only able to hold about 20 digits whereas QR codes have the potential to contain 7000 digits and 4300 alpha-numeric characters. Now that's cool!
What do they look like?
Generally, they look a little something like this: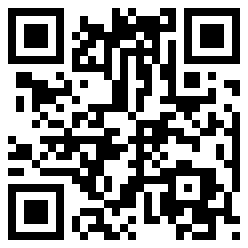 These small squares are usually 2cm x 2cm and feature a pattern of black and white pixels, which encode its contents. This example above contains the URL for my weblog and should you want to test how it works you'll find that you'll be re-directed right back here – pretty clever huh?
How do they work?
To retrieve the information contained within a QR code you'll need a) a mobile camera phone and b) some QR reader software to decode the information held within the image. I lacked this second part for a bit and couldn't understand why I couldn't read the darn thing, looking back it's pretty obvious something was missing. Doh. Anyway, what you need to do is use your camera to first of all snap a picture and then as if by magic the software converts the information into something more familiar. I have an iPhone so decided to play around with some of the free apps available in the app store and come to the conclusion that I really like BeeTagg. Looking at their website you'll see they support quite a range of phones but failing that try a few of these:
How do I make my own QR code?
To make the image above I used the Kaywa QR Generator but there are loads of others to choose from. I just found the simple layout easy to use and easy to copy. Just select what type of message you want to encode, enter the information you want in your image into the box and voila, your very own QR code.
But what's so great about them?
Had I been asked this question yesterday I probably would of said "nothing, they're just another useless fad that people who think they're ahead of the times buzz about on". Now however I'd probably said something like "they're a really useful tool for retrieving and storing information on the go, which help to connect you to the information you need much quicker".
In libraries there are (upon reflection) a number of ways to get using QR codes, especially if you can't afford those amazing RFID systems (but even then I don't think these are particularly useful for library users in terms of retriving information about the item in your hand). Barcodes are used within libraries mainly to link items to a catalogue record. Using the traditional barcode the information contained is very limited and only by scanning the barcode (at the library counter) are you able to find further information contained within the catalogue record.
Now stop and think for one moment. If instead we started to use QR codes to label books, journals, audio/visual, offprints etc and a user wanted to see further information about that resource all they'd need to do is scan the QR code. They'd be able to find descriptive information, images, useful URLs etc all at the touch of a button on their phone. And what if at that moment in time they have too many books out? Well, by saving the QR code as an image they'd have a record of the resource stored on their phone so they'd be able to easily find it when they're ready to loan it. Brilliant.
As a student I lost many a good book by scribbling down the shelfmark on numerous scraps of paper, leaving off other vital information such as its title/author, which I later misplaced. I've even lost count of the amount of times I strawn something on my hand to remind me to go and pick up that book at 575.0162 (D), only to find I've gone and washed my hands and half of the flaming thing's missing. I've also had a great deal of experience helping users to find books from laboriously typed out messages on their mobile phones. What if there was someway to get this information onto your phone directly from the computer screen? Well, there is and it also saves on paper! Bath University are working on their catalogue adding text as QR codes to the bibliographic record summerising the key information, the resource title, the author, and the shelf location. For example see Bath's library catalogue result for Sloman. By scanning the code from the screen I'll have my own record of  'Economics for business / Sloman, John, 1947- Level 5 330 SLO' on my phone to take to the shelf with me. Perfect.
What else?
How about using QR codes on your promotional/marketing materials to link users directly to where information can be found on the Internet? Do you have a library weblog? Are you producing leaflets to inform readers where they can find it? Why not stick a QR code on there so that they're able to link directly to you? Got some particularly good skills tutorials you want your users to know about? Stick a QR code on your promotional material and they'll find it straight away! Got an extensive reading list you want your students to read? Why not put a QR code on there to link students directly to the library catalogue record or even the article itself!! Fantastic eh? Why didn't I think of any of this earlier.
Other sources:
---